Football Fantasy Sweepstakes
This fundraiser combines the best of two worlds: the most popular sport in America (pro football) and one of the most popular fundraising products (the Gift-checkbook).
For $20, participants receive a mini Gift-checkbook worth over $20 in gift-checks that work the same as cash at area restaurants, retailers and more. And, they can also receive (no purchase necessary) a Football Fantasy Sweepstakes ticket that provides them the opportunity to win up to $250 in cash prizes each of the 17 weeks of the professional football regular season.
The Football Fantasy Sweepstakes fundraiser is fun for participants and a great way to fundraise!
---
Easy to Sell – everyone likes having a chance to win one of six sweepstakes cash prizes every week of the 17 week pro football regular season. Our experience shows that the average seller can easily sell 10.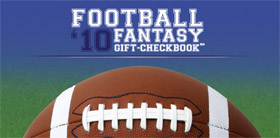 Profitable – you set the sell price and if you sell the mini Gift-checkbook and give away a sweepstakes ticket along with it for $20-25 then your profit is $10-15 per book sold. For every 100 sales you make, you earn $1,000-1,500! We handle and mail weekly winner payouts…you just sell.
Winners For Week Ending 12/09/13
| Ticket # | Points Scored | Rank | Winnings |
| --- | --- | --- | --- |
| 1704 | 141 | Highest | $250.00 |
| 4752 | 138 | 2nd Highest | $87.50 |
| 1599 | 138 | 3rd Highest | $87.50 |
| 4796,1870,0392,2898 | 133 | 4th Highest | $12.50 |
| 3443 | 26 | Lowest | $50.00 |
| 0913,4014 | 29 | 2nd Lowest | $12.50 |
Great for Organizations of Any Size – with a minimum order quantity of only 250 Gift-checkbooks and sweepstakes tickets, even the smallest of organizations can profit from this fundraiser. THIS IN NOT JUST A FUNDRAISER FOR GUYS. Gals are amongst the best at selling this fundraiser!
Organizations of all types, including schools, churches, booster clubs, sports teams, veterans, scouts, fraternal groups (Jaycees, Rotary), police/fire and civic groups can raise needed funds with this fundraiser.
The Football Fantasy Sweepstakes is just too easy, fun and profitable!
How It Works
Supporters of your organization purchase a mini-version of our unique Gift-checkbook that has become a very popular fundraising program by itself. With their purchase of the mini Gift-checkbook, the buyer also receives a Football Fantasy Sweepstakes ticket (ask your BoosterShot fundraising consultant for a sample ticket).
The Mini Gift-checkbook
Contained in the mini Gift-checkbookare four gift-checks that are redeemable as cash at area restaurants, retailers and more. The Gift-checkbookalone is valued at over $20 in savings. Ask your BoosterShot fundraising consultant to show you a sample.
Football Fantasy Sweepstakes Ticket
The Football Fantasy Sweepstakes is fun for participants because they have an opportunity to win one of six cash prizes each week of 17 weeks of the Football season with the top prize each week being $250. Each ticket has three pro Football teams randomly assigned to it each week. No two tickets are alike. Winners are determined by total points scored by the three teams during the week. The ticket holder whose teams score the most total points wins the top prize. The following is a list of prizes that are awarded each week:
$250-

Highest Total Points Scored

$100-

2nd Highest Total

$75-

3rd Highest Total

$50-

4th Highest Total

$50-

Lowest Total Points Scored

$25-

2nd Lowest Total
$550 Total Weekly Prizes